Blog
The birth of hotrodding is much like the history of Jazz or bluejeans: purely American and it continues to influence the rest of the world, generations after it was born. Sure, there's some evidence of earlier dates, but for the most part, hot rods are recognized as the reaction of returning World War II veterans in the mid-to-late Forties to a country that couldn't sell them a new car and had no idea how to provide the hair-raising, adrenaline-pumping experiences they'd become hooked on in the far-away theaters of war. But there was no shortage of used Ford coupes and roadsters available in Southern California, where a whole lot of freshly-decommissioned G.I.s were set loose with pockets full of pay and an itch for speed.
While the dry lakes of Muroc, the salt flats of Bonneville and even newly-paved streets of Los Angeles seemed to be purpose-built for homegrown auto racing on the West Coast, there was no existing support system of performance parts, speed shops or sanctioned racing leagues. At the same time, there was no shortage of tribal mechanical knowledge shared among thousands of young men, courtesy of Uncle Sam, coupled with a surplus of military equipment and machinery. All that pent-up energy and abundance of cutting-edge mechanical technology turned California into the breadbasket of the automotive aftermarket.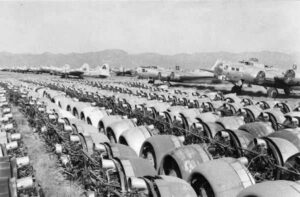 First-generation hotrodders found lots of great crossover between cheap, available military aviation surplus and the new hotrodding industry they were developing. Hydraulic pumps, lightweight aluminum seats, fuel tanks, safety belts, fasteners, fuel delivery systems and gauges were all borrowed from the still-sweaty and panting supply chains that helped America win the second World War. And all that high-quality stuff was just perfect for racing. Brand-new aviation parts were bolted to well-used roadsters and coupes and a unique style of automotive racing was born.
Over the past two decades, a renewed interest in early hotrodding has emerged. As a revolt against the overly-engineered, fully-carpeted and creature-comforted street rod scene of the Eighties and Nineties, young gearheads collected the cast-off early hot rod parts they found at swap meets on the West Coast and began to build the cars they discovered in the early magazines laying alongside them. This revival has coined the term "traditional hot rod:" reviving the simplistic style of those 1st-generation hot rods, defined by the military surplus and the ingenuity of the post-war economy.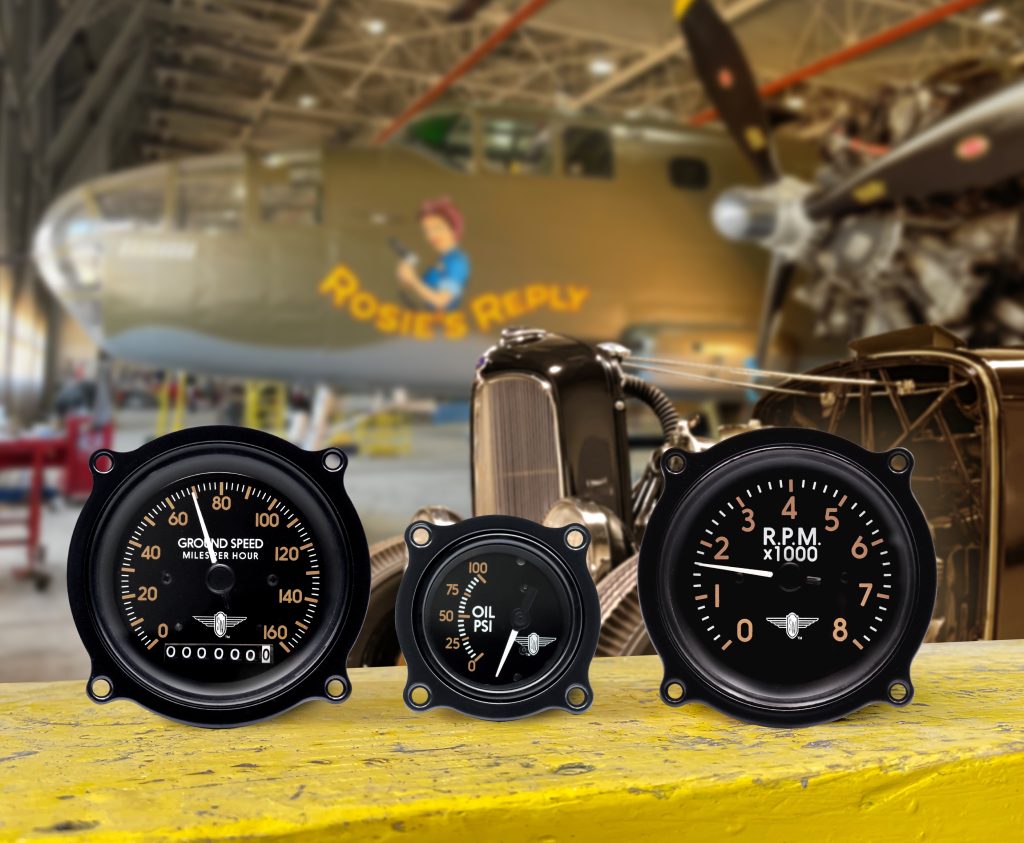 The Aviator line of gauges was designed as a tribute to the early days of hotrodding and celebrates the tradition of those form-follows-function good looks. In a lot of ways, we went back to our own roots in gauge development to produce this new collection: a nod to the no-nonsense demands of military aviation, mixed with the needs of the modern-day traditional hot rod. We caught a glimpse of this spot-on restoration of an early, post-war Ford Model A roadster-turned-hot rod with lots of great racing provenance living its best life, more than six decades after it was first built. This is where our Aviator gauges live, as the vital link between the glory of hotrodding's early days and the demands of next-century performance.
From a Mustang Mach I road racer to a front-engine dragster and every Shelby and Daytona in between, the classic Deluxe gauge endures.
Once auto racing evolved from a pure enthusiast following to an American cult of personality, the aesthetics of its machines became more mainstream. Just like the space race started to inform automotive design by the late Fifties and early Sixties, the spare necessity of design that made a race car a race car easily transferred over to aftermarket performance parts and accessories. The "Race on Sunday, sell on Monday" model became not just a way to sell new cars, but one of the most successful ways to keep an auto parts store or speed shop in business, too. By the mid-Sixties, just about every form and aspect of auto racing was adopted by the fashion industry, the music business, the toy landscape and Hollywood. Racing had become "cool" in more ways than one.
So, what makes the aesthetics of racing so cool? In the grand scheme of things, a race car has to defy gravity and manipulate physics. It's got to cheat both wind and friction. It's got to endure high levels of pressure, resistance and all the forces working against travel across a period of time. That's heady stuff. But what ends up being cool, in all that, is the bare function that every element of the car has to be boiled down to. From the earliest racing cars being nothing more than stock models stripped of every ancillary part in order to reduce weight and go faster, to purpose-built machines that had the lightest and fastest components built right into them, one constant remains: simplicity. As complex as a cutting-edge race car might be, it's still an exercise in form-following-function.
The Stewart-Warner Deluxe line of automotive gauges celebrates the simplistic pursuit of speed. When the most amount of information has to be conveyed in the shortest amount of time, under duress, the Deluxe gauge was the form that followed the function. Straight, pure, simple and to-the-point, the classic face of the Deluxe gauge has often been replicated, but never duplicated.
A period-correct, heads-up gasser? A road course sports car? Maybe a restoration of a mid-Sixties front-engine dragster? Even a factory-built muscle car or a 1st-generation pony car was the perfect environment for a full complement of Deluxe gauges featuring the iconic "SW" badge. Well into the new millennium, the timeless, no-nonsense good looks of a Stewart-Warner Deluxe in the cockpit – or front seat – of a car meant to go fast is still being produced by the brand that started it all.